page Recent changes
The Land Before Time All Grown Up II: The Great Adventures
Edit
 *[1]
55pages on
this wiki Edit *Classic editor
Comments0 The Land Before Time  All Grown Up is a 2020 theatrical animated film, directed by Charles Grosvenor.
The Great Valley Adventure focuses on the experiences of the characters Littlefoot, Cera, Ducky, Petrie and Spike, Tippy, Chomper, and Ruby after they have returned in the Great Valley after being gone over the past years.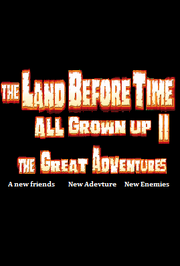 thumb|link=http://vignette2.wikia.nocookie.net/the-land-before-time-fanon/images/2/26/Movie_Poster.png/revision/latest?cb=20161007074731
[hide]#The Land Before Time All Grown Up
The Land Before Time All Grown Up II The Great AdventuresEditEdit
Charles Grosvenor
====Daniel J. Wiley Edit====
Judy Freudberg (story) Tony Geiss (story) Stu Krieger (screenplay) John K. Carr (editing) Dan Molina (editing)
Elijah Wood
Hayden Panetiere
Tara Strong
Tom Kenny
Mitchell Whitfield
Rickey D'Shon Collins
James Arnold Taylor 
Grey Delisle
Phil CollinsEhsan ImaniLord Hurnon
John K. Carr
Dan Molina
Universal Pictures
November 1, 2019 (United States of America)
1 hour 20 minutes
United States
English (original)

$12,300,000 (estimated)
G
The Land Before Time All Grown Up III: The Lost Land(2019)
(2021)
Ad blocker interference detected!
Wikia is a free-to-use site that makes money from advertising. We have a modified experience for viewers using ad blockers

Wikia is not accessible if you've made further modifications. Remove the custom ad blocker rule(s) and the page will load as expected.